Battery Drain Analyzer (F) 2013.01.04 (Android)
Overview: Battery Drain Analyzer with Simple profile manager
Requirements: Android Device OS 2.2 – 4.2
Price: $2.61
Installs Stats: 500 – 1,000
Download:

Battery Drain Analyzer (FULL)
!!! Please be so kind and read text I wrote here to avoid surprised reaction about things which are quite clear if you read text !!!
LITE & FULL version
- shows battery status in notification bar
- shows battery status in widget 1×1, 2×1
- shows battery level changes in time for day
- shows battery life statistic for last 30 days
- estimates for how long the battery last
- estimates for how long the battery will be charged
- notification in case battery level is bellow selected level
- notification for full battery (charging finished)
- 3 simple profiles (possible manual and automatic time activation): Day, Night, Save (allows enable/disable settings bellow)
- 5 buttons for enable/disable: airplane, Bluetooth, mobile data, Wi-Fi, sync + 1 button to access settings
- no advertisement
ONLY FULL version:
- shows you which application drain your battery most
Important:
Please always run application first to start service, which monitor battery. Without it application will not work. If you use a task killer, please add the application to the exception list.
Feedback:
If you have suggestion, comment, bug report or language correction, please use first "Feedback" in Menu – Preferences. It is very hard to help you, if you only criticize application without additional information on the Google Play.
What's New in Battery Drain Analyzer (F) version:
+ Analyzer improved (only full version)
+ Show average memory application usage
+ Notification for full battery
+ Option to change notification sound
+ Simple profiles allows enable/disable: airplane mode , Bluetooth, mobile data, Wi-Fi, sync
+ It is possible activate profiles manualy or every day in specific time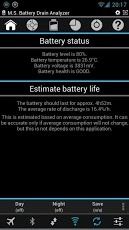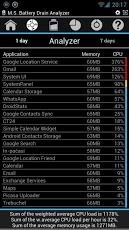 ---
https://play.google.com/store/apps/details?id=com.msd.battery.indicator.full
---
Download Instructions: Battery Drain Analyzer (F) 2013.01.04 (Android)