Browser Auto Selector 2.41.20121012 (Android)
Overview: Android has various browsers. Normal browser, Dolphin Browser, xScope, Firefox, Opera… more.
Requirements: Android Device OS 2.1 and up
Price: $1.12
Download:

Do you use different browsers for different websites?
This app allows you to set a default browser individually for each website.
Please set this application as a default browser.
Can call this app from each application by "share as text" command.
Please look at developer website(how to).
1. Automatic browser choice by URL.
Open a site by the browser that I chose automatically from the next time by setting it from a rule(Can use wildcard) or a browser choice form beforehand.
2.Get original URL from Short URL
Get original URL from Short URL, even shortened URL from Twitter obeys a rule, and a browser is chosen.
3.Cooperation with other services
It can store URL to following services.
・Read It Later
・Instapaper
・Hatena bookmark(need official "Hatena bookmark" app)
I'm testing on the X06HT(HTC Desire 4.0.3), Iconia Tab A500(3.1), ISW12HT(HTC Evo 3D).
I ask for a demand, the bug report by an email(Can read Japanese or English).
I raise more correct translation.
What's New in Browser Auto Selector version:
ver 2.41
Fixed preference interface of external services.
ver 2.40
Added "Ignore URL" to browser list.
Fixed problem about short URL.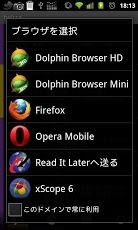 Download Instructions: Browser Auto Selector 2.41.20121012 (Android)
http://ul.to/n10f9a8x
http://rapidgator.net/file/76992323/…evilz.zip.html