FilePush 1.4 (Android)
Overview: FilePush lets you transfer files to your Android device with only two clicks.
Requirements: Android Device OS 2.2 and up
Price: $1.04
Download:

Key Features
- Windows Client (Vista, 7, 8) with explorer integration
- Support for multiple devices
- Pushing files using WLAN – fast
- Or using Google Drive – anywhere
- Categories for different file types
- Pushing clipboard contents to device
- Open, move and delete files
- Rich notifications
- No registration (Google Account)
- Uses Google Push service, is not always running in background
Permissions explained
PREVENT TABLET FROM SLEEPING PREVENT PHONE FROM SLEEPING: To keep downloading if the screen is off
FULL INTERNET ACCESS: This one should be obvious
MODIFY/DELETE USB STORAGE CONTENTS MODIFY/DELETE SD CARD CONTENTS: To write files to SD card
DISCOVER KNOWN ACCOUNTS: To be able to send push messages to your device, the Google Accounts need to be discovered
What's New in FilePush version :
- UI changes and improvements
- Improved swipe-to-remove on list item
- Various bugfixes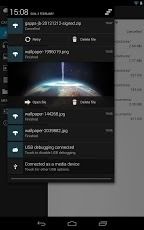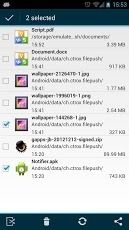 ---
https://play.google.com/store/apps/details?id=ch.ctrox.filepush
---
Download Instructions: FilePush 1.4 (Android)
http://ul.to/a0gjht86
http://filevice.com/70qtrxpdvabj
FilePush only works together with its Windows Client! (Included)
Officially supported is Windows Vista, Windows 7 and Windows 8.
With the Windows Client you can create context menu entries that appear when you right-click a file inside Windows Explorer. With a click on the "Push file to device" entry the file will appear a few seconds later as a download on your device.