Power Widget 3.3 (Android)
Overview: Power Widget offers some very nice and useful toggles. *NEW BACKGROUNDS ADDED*
Requirements: Android Device OS 2.1 and up
Price: $1.86
Installs Stats: 10,000 – 50,000
Download: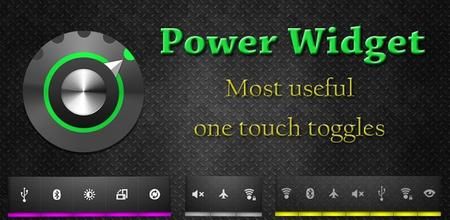 Quote:
---
Info: On some devices it might need a restart before Power Widget appears in your widget list.
If you had the free version, uninstall it once you installed Power Widget.
---
With Power Widget you gain quick access to most of your important settings.
And most important it is highly customizable. Change background transparency, the order of your toggles or even how much toggles you put on your toggle bar is completely up to you.
USB
Airplane (Please note that toggling airplane mode on/off is no longer possible as of Android 4.2.)
WiFi
Bluetooth (only 2.x)
Silent
Lock Pattern (<2.2)
Brightness Toggle
Brightness Slider (with auto for 2.x)
Sync (only 2.x)
Orientation
GPS (link since 2.3)
2G/3G (link since 2.3)
Stay awake
Always On
Screen Timeout
Wifi Lock
Quote:
---
Note: If you had the free Power Widget version before, please uninstall it to get rid of the notification messages.
---
What's New in Power Widget version:
3.3.
- fixed force close when adding the PowerWidget
- no more force close message when rebooting your phone
- since Android 4.2 airplane toggle is not accessible anymore by third-party developers
3.2
- fix force close when using 2G/3G toggle on Android 4.1
3.1
- improved color picker to show also color values
- 4×1 widget size for tablets improved
3.0
- added new cool backgrounds
- fixed battery update bug on 1×1 widget
- fixed memory leak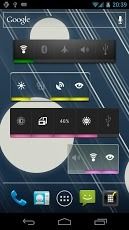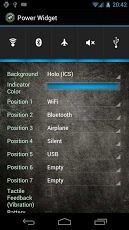 ---
https://play.google.com/store/apps/details?id=at.abraxas.powerwidget
---
Download Instructions: Power Widget 3.3 (Android)
http://ul.to/3layvdkg
http://clz.to/dx5lfqn6
https://www.virustotal.com/file/b453…is/1357974842/
toggles, power control, controls, power bar, widget, google power control replacement, switches, toogle, manual control, toggle alternative, powerwidget, PowerWidget