SpoofFw Donate 1.0.5 (Android)
Overview: Use this application to spoof a different firmware on your Samsung device to be used to get access to other regions updates in Kies 2.0.
Requirements: Android Device OS 2.1 and up
Price: $2.54
Download:

!!Requires ROOT and BusyBox!!
!!Do NOT use if 3 button combo don't work!!
By downloading this application you agree that the developer of this application cannot be held responsible for any damage or bricks to your device.
If problems occur, use the mailing feature in the menu to send me your log.
The donate version have all the same features as the free.
What's New in SpoofFw Donate version:
* Should work on US models of Galaxy now.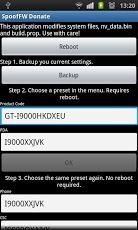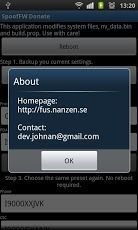 ---
https://play.google.com/store/apps/details?id=com.johnan.spooffw.donate
---
Download Instructions: SpoofFw Donate 1.0.5 (Android)

https://www.virustotal.com/file/8e8a…is/1359063576/