Transformers Bumblebee Theme 1.0 (v1.0) (Android) APK
Overview: Transformers Bumblebee Theme for GO/Apex/Nova Launchers now available!
Requirements: Android OS 2.0 and up
Market Update Released: September 2, 2012
Price: $1.00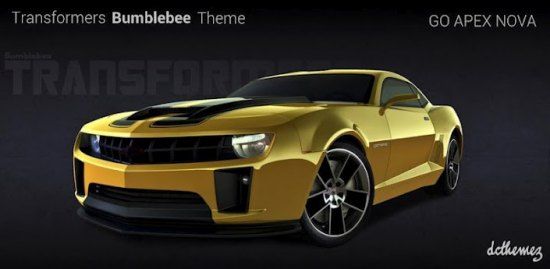 Fully compatible with GO Launcher, Apex Launcher & Nova Launcher!
If you experience any issues please mail us directly
Do not open the theme. You might get a Force close. Apply the theme via the respective Launchers.
This is the "Bumblebee" version of the theme :happy:. For "Decepticons" and "Autobots" versions of the theme see "More from developer".
Theme features:
- Fully compatible with GO, Apex and Nova Launcher
- Custom Transformer UI icons
- Transformer movie fonts
- Deep theme integration (custom icon backgrounds, dock, menus, folder etc)
- 4 Transformers HD wallpapers for both hdpi and xhdpi devices
For GO Launcher only:
Tips for customization
1. Set the fonts by first scanning and then selecting the font "Transformers Movie"
2. App Label colors have to be changed manually. Set the color to FFE334(Hex code for the yellow color used in theme)
Quote:
---
For Apex users: Recommended to set app drawer transparency level to 50% (As seen in the screenshots)
---
What's New in Transformers Bumblebee Theme version 1.0: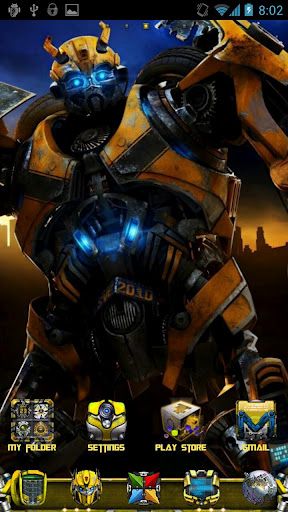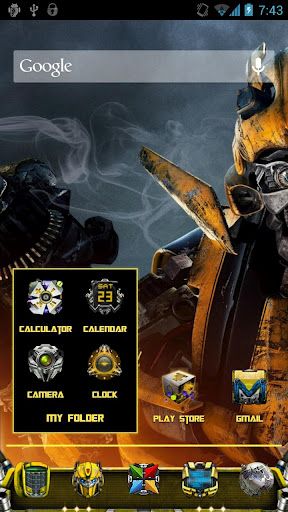 CyberDevilz Download:
---
https://play.google.com/store/apps/details?id=com.gau.go.launcherex.theme.bumblebee
---
Download Transformers Bumblebee Theme v1.0 APK
CyberDevilz Download:
---
http://ul.to/syxxs0go/tbum1.0.Android.zip
http://cyberlocker.ch/g7llrker84xe
---
Go, Apex, ADW, Nova, Launcher Pro, theme, transformers, decepticons, future, futuristic, machine, go launcher, autobots, bumblebee, yellow, chevrolet
[HIDE=6,16][/HIDE]