tTorrent Pro – Simply the best 1.0.5 (Android)
Overview: Download large files directly to your phone or tablet!
Requirements: Android OS 2.1 and up
Price: $3.99
Download:
tTorrent Pro v1.0.5
tTorrent is a bit torrent (bittorrent) client for Android based devices.
Win a $10 Google Play Gift Card on our Facebook page! facebook.com/3dmagic
tTorrent Pro Features:
- UNLIMITED DOWNLOAD SPEED!
- download single files from torrents with multiple files
- multiple torrent downloading, queuing
- search for torrents
- Wifi only mode, Wifi or WiMAX mode
- able to set Upload/Download speed in options
- web browser integration
- magnet link support
- trackerless torrent (DHT) support
- RSS support(automatically download torrents published in feeds)
- UPnP and NAT-PMP support
- IP filtering support
- proxy support(SOCKS, HTTP)
- encryption
- Local Peer Discovery
- creating torrents
FAQ
If you have problems: ALWAYS SEND CRASH REPORTS!
Q: My download speed is as slow as with the Lite version. How comes?
A: Uninstall the Lite version and restart your device before installing the Pro version. Try to change settings. Increase upload speed, it may increase download speed as well.
Q: I have force restarts, my device slows down etc. What's this crap?
A: Uninstall the Lite version. Clean Cache/Temp files.
We can't support custom ROMs. Use another OS.
Q: All torrents are corrupted. What the heck?
A: You try to download from a tracker, which needs to be logged in with an account. Log in to your account on that tracker or download the files from another tracker.
Q: Why I need to download another app from outside to use this?
A: You need to download the search plugin Transdroid to be able to search from inside the app. If you don't download it, you still can search for torrents within your internet browser.
Q: Why do I get "Provider Error" on search?
A: You can try to change the search site in the app's settings, maybe the actual torrent site is down. You will find what you are looking for!
In case of doubt try the Lite version first!
What's New in tTorrent Pro version :
Upload and ratio statistics are saved now.
Fixed possible crash at startup.
Ignore battery limit setting when charged.
Fixed bug with pause/resume button on details screen.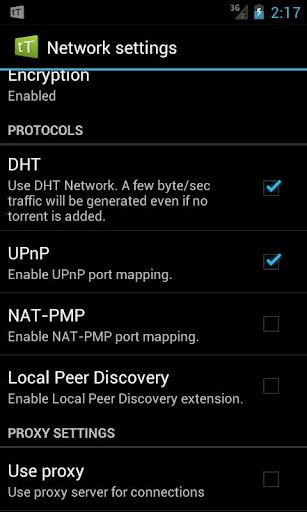 ---
https://play.google.com/store/apps/details?id=hu.tagsoft.ttorrent.pro
---
Download Instructions: tTorrent Pro – Simply the best 1.0.5 (Android)
---
http://ul.to/9oqg3bd9/ttp1.0.5.Android.zip
---
aTorrent, aDownloader, uTorrent (µTorrent), Pirate Bay