TV Stream Full 2.2.3 (Android)
Overview: Watch free series and movies, directly played on your PHONE (Not Browser!).
Requirements: Android OS 2.1 and up
Price: $1.99 On Sale ; Get now while it's 33% off!
Download:

TV Stream works by searching and accessing the free online TV streaming sites and video link aggregate websites. You can watch TV shows (3,720 shows to choose from) or movies (18,954 movies to choose from) from these sites easily without having to navigate their websites (like sidereel, watch series) or having to watch the video in a web browser. Slightly similar to TV portal.
Quote:
---
If you are experiencing slower than normal streams, launch the video, click on the screen, locate "…" (for VPlayer), click on it, increase the buffer size. This way it will buffer and you can watch without hesitation or skips. Similarly for MX Player, enable H/W decoder. We have no control of where the servers of these links are located at.
---
In order to watch TV shows and movies, you will need a video player that is capable of playing many different video formats and capable of streaming video. We recommend installing one of these: MX Player, VPlayer, DicePlayer,BSPlayer, or MoboPlayer. To see all installed players during selection, select "complete action using: internet" first, then another prompt will show all players.
TV Stream allows you to watch TV and movies for free from many online file and video sharing sites. TV Stream allows you to watch TV shows and movies from some of these video streaming websites:
-Divxstage
-Novamov
-Movshare
-Filebox
-Muchshare
-Vidbull
-Nowvideo
-Videoweed
Features:
★Videos play inside your phone with it's video player (BROWSER isn't used and no spam popups)
★The Lite Version has no watching limit after you have posted on your Facebook wall, but the Lite version's "search" and "favs" function are locked.
★You still get a lot of mileage from the lite version because the "home" tab has about 100 recent episode finds that update per hour. It also has ads.
★Full version removes all restrictions, ads, and unlocks the rest of thetabs.
Note that some of the older seasons of a show (or very old movies) may not produce any links, because the content on sharing site may have been removed. In most cases there is nothing that can be done about this; however, for any problems please send an email to the developer before posting a bad comment. Constructive criticism can go very very far regarding the developer. Email your problems or concerns to mrje...@gmail.com or visit the Facebook page at facebook.com/TVStreamApp. Again don't forget to rate, comment, and like us on facebook, those really mean a lot and make a difference to the app.
What's New in TV Stream Full version:
No recent changes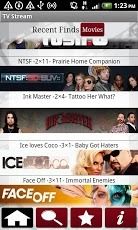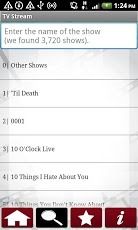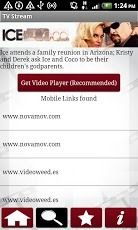 ---
https://play.google.com/store/apps/details?id=com.Rastar.tvstream
---
Download Instructions: TV Stream Full 2.2.3 (Android)