unFed unDead! 3.5 (iPhone iPod Touch)
Overview: Hungry for brain? Transform yourself into a 'Hungry, Hungry Zombie' in this Frantic Zombie Feeding Frenzy!
Requirements: iOS 4.3 or later
What's New in unFed unDead! version 3.5:
Controller tweaks
- new directional tap
- reach penalty for forward swipes
- reach bonus for backward swipes
This is the PAID version of the app. For paying for this instead of getting the free version, you get over $5 worth of free perks!
50% off for a limited time. Get it now at our introductory price!
Multiplayer tweaks
- more hunger
- faster brain drain recharge
Fixed a multiplayer reset crash
As your zombie horde surrounds a small room filled with yummy victims, control a zombie at each side of the room. Swipe to break through the window and watch as your victims run for the door in pure panic. Reach in through the window at an angle you decide by your swipe direction and eat everyone's brains before the shock timer runs out and your victims escape.
Wander your way through several chambers of terror, feeding on prison inmates, bikini babes, brainy students, depraved Nazis, and more. Whether innocent or evil, no mortal shall escape!
Each level will present you with a new set of unique challenges as you search for an effective strategy to take on the zombie-slaying level boss, while simultaneously trying to keep up with slaying the hordes of panicked innocents. You must spread your attacks around since eating too many brains too quickly with the same zombie will force him into a temporary daze as he "Brain Drains". Use skillful, accurate attacks to rack up high scoring Kill Streaks.
Feed solo in a challenging single player mode, racing against the clock to capture all your targets before they escape. Play again and again as you try to earn stars to unlock new content and earn perks. View and overcome the high scores of your friends on Facebook and post the social scoreboard rankings on your Facebook page to brag about it.
Get up to 4 of your friends together to play in a competitive multi-player mode on a single device, each of you controlling the zombie at one side of the room, competing for points earned by feasting on yummy brains!
Earn perks to help make your zombies more powerful by getting a 3 star score on a level, or buy perks in the all new perk store.
Don't forget to stop and enjoy the scenery while you're playing. We have some amazing Zombie Graphic Art created exclusively for unFed unDead!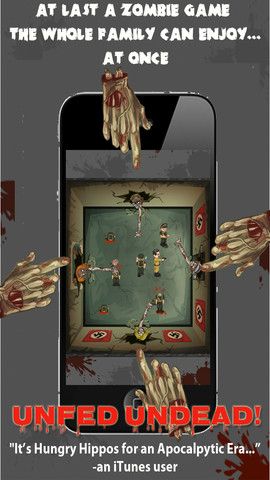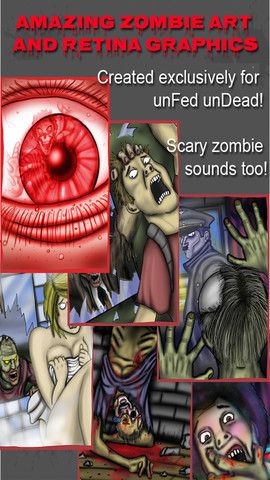 Download unFed unDead 3.5 (iPhone iPod Touch)
CyberDevilz Download:
---
http://ul.to/3z058ob7/unFed.unDead.3.5.iPhone.ipa
http://extabit.com/file/28dbre7xod6m1
---