Vintique 1.3 (v1.3) (iPhone iPod Touch) IPA
Overview: Vintique provides awesome vintage filters and powerful image editing tools.
Requirements: Compatible with iPhone 3GS, iPhone 4, iPhone 4S, iPod touch (3rd generation), iPod touch (4th generation) and iPad. Requires iOS 5.0 or later.
App Store Update Released: Aug 30, 2012
Price: $0.99
Description
★ LIMITED TIME INTRODUCTORY OFFER 60% OFF ★
Vintique provides awesome vintage filters and powerful image editing tools.
Edit your photos with Vintique and boast them on Instagram, Facebook and Twitter.
★ 32 Vintage Filters
- old times, warm day, delight, 5 p.m., watercolors
- pinky day, drowsy, vintage, yesterday, the day, heaven
- happy time, beamed, someday, sweet dream, phantasm
- dim past, tenebrific, gloomy, reminiscent, remember, mind map, coarse
- canvas, letters, chilly, chic, pure, fading, blue ink, memories, dark mood
✪ You can turn on or off adjustment steps and textures in a filter. Yes, you can edit your own style vintage photo.
★ Adjustments
- Bright/Contrast/Saturation
- Vibrance
- Temperature/Tint
- Highlight/Shadow
- Exposure
- Gamma
- Hue
★ 19 various vignetting & 26 textures
- You can adjust the opacity.
★ 49 frames
★ Share
- Open in Instagram
- Save to album
- Facebook
- Twitter
- Mail
- Open in other apps
✪ Actual previews of Instagram, Facebook and Twitter
★ Image Resolution
- 612X612: for mobile photo sharing services (Instagram, Facebook, Twitter, etc).
- 1224X1224
What's New in Version 1.3
- Added 26 textures on the old vignetting menu which is changed to "vignetting and textures" (The 3rd tab button).
- Fixed the issue that crashes sometimes occurred when the frame view is shown or scrolling.
- The current selected frame or vignetting are focused when the corresponding views are shown.
- Adjust the position of the progress label on the indicator.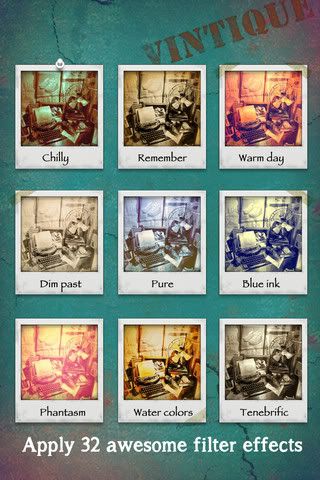 CyberDevilz Download:
---
http://ax.itunes.apple.com/app/id544556782?mt=8
---
Download Vintique 1.3 (v1.3) (iPhone iPod Touch) IPA
CyberDevilz Download:
---
http://ul.to/ws5jx6nj
---