VLC Super Duper Remote PRO 3.10.1 (Android)
Overview: Remotely control your VideoLAN Client! Record audio permissision is necessary for the new feature voice control!
Requirements: Android OS 2.3 and up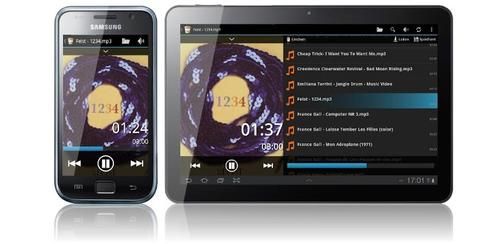 With VLC Super Duper Remote PRO you are able to control your VideoLAN Client (VLC) with your Android device.
STEP 1:
Inside VLC go to "Tools >> Preferences" and enable "Show settings >> All" in the bottom left corner
STEP 2:
Inside "Interface >> Main interfaces" check "Lua interpreter" and "Web" if necessary, listed in "Extra interface modules"
STEP 3:
Modify VLC's .hosts file to not allow access from localhost only, if necessary
STEP 4:
Inside app: Select 'Change Server' from menu
STEP 5:
Select 'Add' and add a server.
STEP 6:
Select the added server.
STEP 7:
Be a potatoe and use your coach!
STEP 8:
Review the application!
Try HomeMedia – more Info on our website!
HomeMedia is compatible with Windows XP/Vista/7. With HomeMedia you store your movies/series/music automatically into a database, which can be accessed by this remote! HomeMedia access is done by the external app HomeMedia.
VLC Super Duper Remote Features:
- Play, Pause, Stop
- Control volume
- Control Timeline
- Control aspect ratio, fullscreen, audio tracks, subtitle
- Skip buttons
- Next, Previous buttons
- DVD-Control
- Filemanager
- Synchronize with player's playlist
- Pause on incoming calls
- Save/Load playlist on device
- *HomeMedia support
- *Start player remotely
- Widgets
- Wake on LAN feature
- Ad free
- Full Voice Control
* This feature needs a correctly installed HomeMedia on the computer and correctly set up HomeMedia app on the Android device.
Extra features in PRO version:
- Widgets
- Ad free!
- Full Voice Control
What's New in VLC Super Duper Remote PRO version:
- Complete new interface
- New input methods
- Optimized for tablets
- Display album art (may not work for Windows (VLC bug))
- Display album art via Discogs (when not fetched by VLC)
- First steps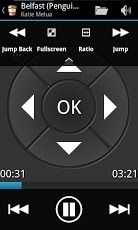 Code:
---
https://play.google.com/store/apps/details?id=aberl.vlc.pro.mote
---
Download VLC Super Duper Remote PRO 3.10.1 (Android)
Code:
---
http://ul.to/j9wffrit/vsd3.10.1.CyberDevilz.zip
http://www.filedownloads.org/9dc2jowav453/vsd3.10.1.CyberDevilz.zip.html
---