Water Drops Plus 1.1.6 (Android)
Overview: Water Drops simulates water in a pool on any wallpaper. You can use the default pool tile background or customize the wallpaper. You can let the drops fall on it automatically, or tap to create new drops.
Requirements: Android OS 2.2 and up
Price: $1.49
Download:
Water Drops Plus Features:
* Custom background
* Different reflection styles
* Quality/battery control
* Automatic drop rate adjustment
* Different drop sizes
* Selectable animation speed
* Zoom in on background
To set the wallpaper, go to:
Settings -> Wallpaper -> Live Wallpapers -> Water Drops Plus
If you run into any problems, please send me an email, and I'd be happy to take care of any issues!
If you have a feature you'd like to see, let me know!
What's New in Water Drops Plus version:
Fix more crashes related to Jellybean
Add 'smoother animation' option for fast devices (see settings)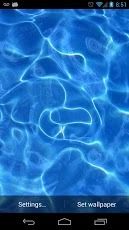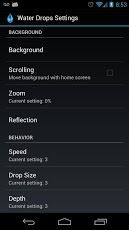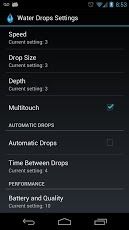 Download Instructions: Water Drops Plus 1.1.6 (Android) Lucky Patcher Required
http://ul.to/njttrizp
http://extabit.com/file/28ckm24oewdt5/